How it works
Entire air quality data in one App
Build trusting relationships with customers, employees, or tenants to increase retention and drive sustainable revenue. Demonstrate your company's involvement in healthy and safe environment
Real-time indoor air quality monitoring
Notifications and tips for data-driven decision-making
IAQ reviews and reports for experts and stakeholders
A data-driven tool for making decisions on upgrading HVAC systems
Marketing tools (such as office dashboards, website widgets, etc.) to increase tenants' loyalty and maintain foot traffic
Collects data in real time and transfers it to the server. Measures key pollutants and environmental parameters that influence indoor air quality and comfort.
CityAir Indoor Air Quality Monitor
Particulate matter PM2.5 and PM10
Carbon dioxide CO2
Temperature, relative humidity
How it works
How it works
High air quality and transparency regarding AQ data impart a powerful competitive advantage to property owners and employers. We will provide you with a variety of tools to make people aware of the air quality they breathe.
Tools to communicate high air quality standards
Different data view formats to monitor air quality, safety, and comfort, and to inform people of the AQ impact on their productivity and well-being
Dashboards demonstrating high indoor air quality compared to that outdoors (relevant for polluted cities)
Customized widgets for websites and apps
You may choose the communication format that is most beneficial for you. For example, you can show real-time or statistical data on such indoor climate parameters as comfort, safety, humidity, or concentrations of certain substances.
We may help you develop custom tools in cooperation with your marketing or communications team based on your needs and expectations.
How it works
Our analytical tools will help you investigate any air quality issues or incidents, conduct a detailed AQ analysis for each room in certain time periods, under different HVAC operating modes and room occupancies.
Analytics to investigate air quality issues
Choose daily, weekly, or custom periods
Prepare customized reports on air quality and safety
View data on dynamic AQ dashboards
Evaluate the results of adjusting HVAC settings
How it works
Ambient air quality (AAQ) data is essential to issue safe and energy-efficient air quality management recommendations. For example, the system will not prompt to open windows when AAQ is below standard (poor).
Ambient air quality data included
A system of notifications and recommendations
Opportunity to change the ventilation system's operation mode
How it works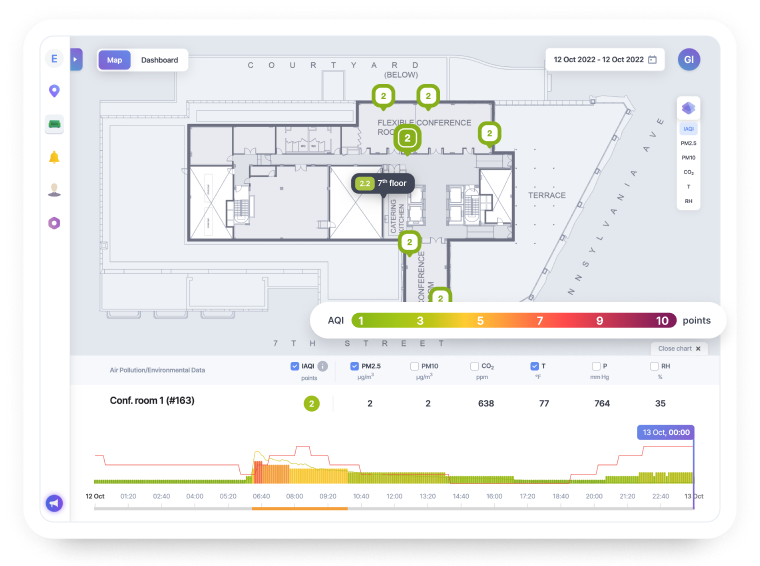 We use real-time data on the concentrations of particulate matter and carbon dioxide to calculate Indoor Air Quality Index (IAQI)
Indoor Air Quality Index (IAQI)
It is based on EPA's guidelines and recent research on the impact of indoor air quality and people's health and well-being.